Room Essentials
Moving into a Wisconsin Senior Living Community
Elder Care Room Essentials
Elder Care Cottages provides the daily necessities for all of our residents. Each resident is provided with
Bedroom with private bathroom
24/7 ready-to-go caregivers
Toilet Paper
Facial Tissue
Laundry Soap
Towels & washcloths
Laundry basket
Bathroom storage cart
Built-in armoire
Small garbage can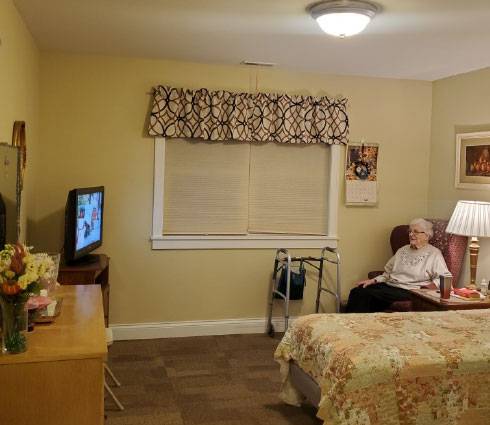 Comfortable Clothing and Accessories
When deciding what kinds of clothing to bring to a senior living community and how much, there are several practical matters that should influence your loved one's wardrobe. The temperature inside the cottages is regulated to a level that would be perfectly comfortable for most active adults, elders tend to be cold-natured. Make sure your loved one has warm and comfortable vests, sweatshirts or jackets that can be worn with every outfit. Clothes must be easy to take off and put on and should be able to withstand lots of washing and drying.
**Note: ALL ITEMS MUST BE LABELED**
Bedroom Accessories Checklist
Nightstand
Zippered Mattress Encasement
Waterproof Mattress Pad
(2) Set of sheets w/ pillow covers
Comforter(s)
Blanket(s)
Plastic Hangers
Dresser (Space Permitting)
Pictures & Decorations
Clothing Checklist
Shirts (6-7)
Pants(4-5)
Sweaters/Sweatshirts (2-3)
Socks (7-8 pairs)
Undergarments
Pajamas (4-5)
Robe/Housecoat
Shoes (well fitting)
Jacket
General Needs Checklist
Toothbrush & toothpaste
Denture Tabs / Soaking Cup / Other denture supplies
Comb / Brush
Bodywash
Shampoo
Conditioner
Liquid Hand Soap
Deodorant
Lotion
Electric Razor
Incontinence supplies (if applicable)
Shoebox-sized plastic container with lid
Rubbermaid container for personal food items
Please refrain from bringing items of high personal meaning regardless of monetary value. Contact us for more information.

Download Checklist
Questions? Give Us a Call