Tour the Elder Care Cottages
Senior Care Assisted Living & Memory Care in Waterford, WI
When Family NEEDS Family
Welcome to the Elder Care Cottages of Waterford, a different kind of senior assisted living in Waterford, WI. When you walk into one of our cottages, you will see and feel the difference of our assisted living facility floor plans. You will experience a home and a family within our community homes where the staff is close with each resident. Dining, working, praying, and enjoying life together have created our family.
Elder Care Cottages is a fresh approach to traditional assisted living homes. Each of our four cottages contains twelve bedrooms. The open concept ranch-style homes provide each resident with a bathroom and bedroom, with many more features that make our residents feel comfortable.
Advanced Memory Loss Care in Wisconsin
Two of our current cottages are designed specifically for the care of elderly family members with advanced memory loss, Alzheimer's disease, or other related forms of dementia. We've taken measures, such as putting alarms on the doors, to ensure your loved ones stay safe and to discourage them from wandering into unfamiliar places.
The small footprint of each cottage encourages residents to walk the short distance to the dining room, reading room, piano, and/or community room using their own strength instead of relying on a wheelchair.
Waterford Senior Assisted Living Home
We provide support with activities of daily living, and encourage residents to continue engaging in the hobbies they always enjoyed.
Walking
Gardening
Crafts
Bible Study
Exercise
Games
Taking Care of Wisconsin's Senior Citizens
Our qualified caregivers also aid in medication management for patients who are forgetful or misplace things. Housekeeping and laundry services definitely help to keep our cottages in a sparkling clean condition.
Registered nurses, on-site full-time clinical staff, and senior caregivers consistently promote the health and well-being of all our senior citizens at Elder Care Cottages. Services, as well as our cottage design, help create an environment where moments of joy, independence, and wellness are the focus of each and every day.
Keeping Our Residents Active & Healthy
Gardening
Game Nights
Community Piano
Group Prayers
Family-Style Meals
Group Meal-Making
Arts & Crafts
Group Walks
Indoor Gardening
Safe and Sound with Nearby Emergency Services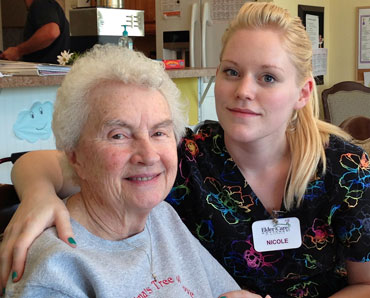 You get peace of mind when your parent or loved one moves into Elder Care Cottages. Not only are our caregivers sincerely dedicated to their jobs, with care around the clock, 24/7; we also are located only one block away from the Tichigan Fire Department. If ever there is an emergency need, your loved one is set up for excellent medical response time.
Another safety measure we have in place--which doubles as a luxury, as well--is our walk-in and sit-down bath/spa. These baths, with special water-proof door seals, ensure our residents won't slip or fall while bathing themselves or being bathed. We have some of the most comfortable bathing options available for safety and comfort's sake. Your loved one is always clean and out of harm's way at Elder Care Cottages in Waterford, right near Tichigan Lake.
Wonderful Neighborhood Surroundings
Our facilities are surrounded by nine acres of woodlands, farm fields, and neighborhoods. The Elder Care Cottages of Wisconsin is a state-certified CBRF assisted living facility. We are locally owned and operated by the Schilling family of Rochester, WI. This is our community, and we want to make it as nice for everyone involved in it as possible. Your loved one can help us make that dream a reality.
Conveniently located in Western Racine County on S 164, we are an easy drive from Waterford, Waukesha, Burlington, Muskego, Mukwonago, Franklin, Rochester, Tichigan, Union Grove, Big Bend, Raymond, Yorkville, and East Troy in southeast Wisconsin. With such short drive times, you can come and visit your parent or loved one whenever you get the urge to remind them how much you love them.
We are committed to providing unbeatable services and comfort for senior citizens and their families throughout Southeastern Wisconsin.
Make A Difference–
Experienced care-givers needed
Follow Us Today!
Download Our Brochure!
Directions to Elder Care Cottages from: